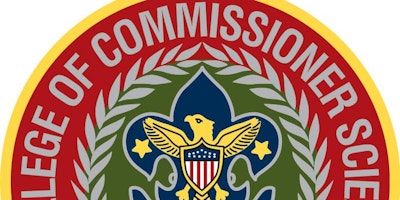 Register
Actual time is 7:15 AM to 4:45 PM but the system likes only starts on the half hour. Open to…
Register
This meeting is where the District Nominating Committee's slate of officers for the 2018 will be nominated and voted on.…
Latest Event Updates
As I have talked to a few Cub Scout leaders, I have begun asking, "Do you or your Pack use the Denner system?" Most of the time, the only reply I receive is a scrunched up face of puzzlement. I could have just asked them how their mother was doing in Polish or Russian. They would have understood the question about as well.
What is a "Denner"?
The Denner and Assistant Denner.

The denner is a den member selected to be a boy leader for a short period of time— anywhere from one week to several months. It is a good practice for the den leader to rotate the position of denner throughout the den so that all boys have the opportunity to experience the leadership position. The den leader and den chief determine his responsibilities, which might include helping to set up and clean up the den meeting place; helping with games, ceremonies, tricks, and puzzles; leading a song; or acting as den cheerleader. The denner should be given meaningful responsibilities and recognition to help him learn how to be a leader. The denner wears a shoulder cord on the left shoulder. Some dens also have assistant denners who assist the denner and may move up to the denner position after his rotation.
Boy Scouts of America. Cub Scout Leader Book, Kindle Locations 855-862 (2015-05-10).
One of the biggest drawbacks of Denners for the novice Den Leader is the feeling of loss of control. Focusing the Den Leader's attention on the Denner while the rest of the Cubs are at risk of running amock seems dangerously close to inviting chaos. These new Den Leaders believe the most important part of their job is control. For elementary school teachers turned Den Leaders this loss of control may be a life-threatening condition.
If you are not aware, BSA has issued new requirements, handbooks, and leader guides for Cub Scouts. This is a major overhaul of the program.
This new set of requirements will affect everyone in scouting. The surprising part is how it affects Boy Scout Troops.
As we have linked before, BSA through Scouter magazine and Bryan on Scouting has given us some summaries of the changes. We, as leaders, need an overview that tells us more.
Sox is aiming for 120 sparks for the year come the end of this week.

To make a spark, we all know, takes work!
The Crossroads of America Council is excited to announce it will celebrate the Order of the Arrow's centennial as an ArrowTour host. ArrowTour is an interactive event for Scouts (of all ages and regardless of OA membership), volunteers, and Scouting alumni that is traveling throughout the country during the summer of 2015. The tour will make a stop on July 14, 2015 from 4:00 pm to 8:30 pm at Camp Belzer at 6102 N Boy Scout Road, Indianapolis, IN 46226.
The purpose of the tour is to commemorate the Order of the Arrow's 100th anniversary. During the event, participants will have the opportunity to learn about the Order of the Arrow, its story, and its future. Some of the program highlights include interactive exhibits, activities such as silk-screening and branding, and challenge games. Participants will have a chance to meet some of the Order's national leaders, and alumni can learn about the Scouting Alumni Association and local alumni efforts to supporting Scouting in our area.
An exclusive ArrowTour Trading Post will carry ArrowTour and OA centennial merchandise. The Order of the Arrow will split the trading post proceeds with the Crossroads of America Council.
The program will conclude with a special show that recognizes the Order's rich history and empowers participants to help shape the organization's future. The Order of the Arrow is creating a truly unique and interactive experience for all Scouts, volunteers, and Scouting alumni.
The tour will open at 4:00 PM and will conclude at 8:30 PM.
You can find more information about the ArrowTour routes and program on the web at http://arrowtour.oa-bsa.org. You can also keep up with the tour as it makes its way around the country by following @ArrowTour on Twitter.
For Webelos interested in attending, if they attend with a Boy Scout Troop or Patrol, this event can count for Arrow of Light Requirements 3D and 4.
We, as scouters, are all familiar with the emotional growth that scouts obtain from being involved in outdoor activities. How do you describe why it works? Often scouters struggle to explain what they have witnessed to be true. We need to be able to describe why this works if we are to be able to persuade new families to join. Let's take a look at what types of activities promote personal emotional growth.
Ultimately, well-run scout units are boys-at-play not boys-at-school-outdoors. If that is so, may be this explains why scouting works:
Closely related to the increased pressure to achieve is the decline in play. [] Over the past several decades, we have witnessed a continuous and, overall, dramatic decline in children's freedom and opportunities to play with other children, undirected by adults. In other essays I have linked this decline to the well-documented rise in depression and anxiety among children and adolescents (here) and to the recently documented decline in creativity (here). Free play is the primary means by which children learn to control their own lives, solve their own problems, and deal effectively with fear and anger—and thereby protect themselves from prolonged anxiety and depression. Free play is also the primary means by which children maintain and expand upon their creative potentials. Now, I suggest, free social play—that is, play with other kids, undirected by adults–is also the primary means by which children overcome narcissism and build up their capacity for empathy.

Play, by definition, is always voluntary, and that means that players are always free to quit. If you can't quit, it's not play. All normal children have a strong biological drive to play with other children. That's part of human child nature—an extraordinarily important part of it. In such play, every child knows that the others can quit at any time and will quit if they are not happy. Therefore, to keep the fun going, each child is motivated to keep the other children happy. To do that, children must listen to one another, read into what they are saying, and, in general, get into one another's mind so as to know what the other wants and doesn't want. If a child fails at that and consistently bullies others or doesn't take their views into account, the others will quit, leaving the offending child alone. This is powerful punishment that leads the offender to try harder next time to see from others' points of view. Thus, in their social play, children continuously practice and build upon their abilities to empathize, negotiate, and cooperate.
Moreover, children, unlike adults, are rarely effusive in their praise of one another. They have little tolerance for anyone who thinks that he or she is "special," or is in some way above the rules, or is a natural leader who should get his or her way all the time. Playmates are often highly skilled in deflating one another's egos, through such means as humor and insults, or through outright rejection if those means fail.
Consistent with this view, correlational studies have revealed that children who engage in more social play with other children demonstrate more empathy, and more ability to understand the perspective of others, than do children who engage in less such play.[6] Moreover, several short-term experiments conducted in preschools have shown that when some children are provided with extra opportunities to engage in social play, those in the extra-play groups later exhibit higher performance on various measures of social perspective-taking and ability to get along with others than do those in the control groups.[7]
Boys setting up their own terms of play provide emotional development benefits because they have an incentive to adapt. The incentive is the desire to keep others involved. They don't seek out or give effusive praise — often quite the opposite. Yet, these unstructured opportunities provide real opportunities to foster empathy and understanding.
What lessons do we learn as scouters? In the last post, I suggested that adult-guided activities, especially in sports, have a much higher incidence of injury, requiring medical attention, including orthopedic surgeries. Now we see that emotional growth is greater where youth-led activities are allowed, including juvenile insults. The more time for unstructured interaction is allowed, the greater opportunity for growth.
While many of the points in the excerpt above focus on "free-play" for young children, the lessons for emotional growth are the same as children become teen-agers. They need time to face challenges together and have arguments where they face the risk of the other kids giving them the ultimate juvenile punishment: non-participation. If a patrol leader is overly controlling and lack in empathy, his patrol will find anything else to do than follow the patrol leader's instructions. The patrol leader may or may not learn quickly, but he has the opportunity to learn that dictatorial methods fail.
The patrol leader who leads by example will learn to be a better leader. When the duty roster is made, the good patrol leader will give himself the least desirable job first: latrine or KP duty or the patrol's least favorite. The patrol learns that he has more credibility when he can say, "I understand it is not fun. I did it yesterday. Come. I'll help you figure out how to do it faster." His patrol will get tasks done.
So what is going to give your scouts the greatest opportunity for growth? A weekend campout that appears to be completely chaotic and unstructured? A high-adventure trip led by adults and planned down to the minute?
With these tools in mind, how would you explain that the patrol system is the reason that a prospective scouting parent should have their son join Scouts?
Experts in child development are learning that "risky play" is less risky than parents believe and important to proper emotional development. In today's world, many parents are trying to prevent their kids from under taking risks. They supervise the children and all of their activities. They select and organize activities to avoid any risks. So the criteria they seem to be using is that they want no risk of injury to their children. So what is it they do to give their children activity and avoid all of these risks? In many situations it's organized sports. For others it's allowing them to play video games all day.
So if the criteria is to avoid injury, how successful have parents been in achieving their goals? Are children safer in adult-controlled activities than activities where the children choose for themselves? We'll skip questions of which activities help the children develop into self-reliant individuals or help them achieve educational goals better. It simply focuses on questions of safety.
Based on some summaries of Center for Disease Control studies, the evidence suggests the kids that define and decide the type of play in which they engage are less likely to be injured. Less than what? Less than organized activities, especially sports, where parents or unrelated adults are deciding what types of risks should be undertaken. Some summaries suggest that over 60% activity-related injuries to kids requiring medical treatment are from organized sports. That leads to two interesting insights related to scouting.
But before we look at the insights, why would these things be true? This increased tendency to injury seems a strange results until you think about the type of coaching that is often given. "Play through the pain" is the old coach's refrain that has been abolished. Yet the injuries continue. Some of the reasons for this are that the kids are doing the same activity repeatedly. They are also specializing in the position or type of motion that is likely to cause injuries. Studies on baseball suggest that large pluralities of kids play with sore arms. Rotator cuff surgeries and other orthopedic sports surgeries are increasing rapidly among the young. They end up many repeated-stress injuries. So the very activities that the parents look for their children to avoid risk of harm actually is incurring ever higher rates of injury. So what risks are the parents seeking to avoid?
If  scoutmasters would report as many injuries on the scout outings, troops would be shut down too harmful. Yet these same boys who do scouting, too, are more likely to be injured in sports than scouting. So what we see is the perceived risks of Scouting are far less than the actual risks of sports.
One of the other insights from the CDC studies is that kids who play sports and choose their own activities tend to be injured less than in organized sports. Part of it is natural avoidance. If they feel any soreness, they change their behavior. The second is  changing positions and responsibilities regularly which avoids some of the soreness and trauma that leads to later medical correction. This leads to the second insight.  Scouting allows the boys to determine what level of risk they're willing to undertake. This self-determination is actually one of the best ways to minimize risk and resulting injury. Boy leadership increases safety rather than reduces it. It is the adult tendency to press forward with risk, discomfort, or pain that is harmful to youth.
Scouting is statistically much safer for youth than adult-organized sports.
UPDATE 7/21/15: In July BSA open direct access to this reporting from within my.scouting.org. Now there are two ways to access the national database: my.scouting.org and servicehours.scouting.org. There is one way to access the local database, described below.
Like any business, Crossroads of America Council wants to be able to understand what is happening in its territory. Since the Council cannot have a person at every Pack, Troop, or Crew activity, Council seeks to learn what is happening by asking its units to report their various activities. We are all familiar with recharter reports, JTE reports, advancement reports and summer camp reports.
What we are not as familiar with is Service Hours Reports.
Council seeks to learn information about unit service hours for many reasons. One is to be able to better market scouting in our Central Indiana territory. When scouting was in its infancy, newspapers such as the Indianapolis Star ran reports about the activities of Boy Scout Troops all over the Indianapolis area. For nearly 20 years, these newspapers ran a column entitled, "Star's Column for Boy Scouts." It was the blog of its day.
Most of the time these articles were focused on the Troops' advancement, camping, and sports competitions (such as troop vs. troop scores in basketball).
During World War I and the Liberty Bond Drive, reports about the troops' bond sales and other service activities took greater prominence in the columns.
In addition the newspapers general News Department would run stand-alone stories about the scout troops service to others.
Today, newspapers do not spend any time running regular columns about scouting. There are too many competing youth organization that would want equal time.
The current generation needs to rely on newer technology than a newspaper beat reporter to get the word out about what the scouts are doing every day.
We troop leaders need to be our own newspaper reporters. We need to gather information about the story. We need to write reports. We need to publish the reports. We need to make sure our reports get into the hands of prospective scouting families.
Service hours are an important part of Journey to Excellence reporting, which will be required with this year's Rechartering.
I was not appointed as the Committee's secretary, so I did not take notes with an eye to that thoroughness. Nor was I a participant in each break-out session. With those warnings, I will highlight some of the discussions from the Committee Meeting.
Steve James, the District Chair, opened the meeting and emphasized that District needs to be focused on membership recruiting for August 27, 2015. He said, "We are in All-Hands-On-Deck mode. We need all Packs, Troops, and Crews to be part of the process."  Steve introduced our new District Executive Cornellius "Con" Sullivan. Con rapidly covered the points about our Council-wide Back to School Night that Darin Stendl, Con's supervisor, had covered at the May Roundtable. Jump to the link for a detailed report. The most important part of the presentation for this report is that the marketing campaign's call to action for the general public is "Sign up at your local elementary school." This means that we need personnel at all of our District's elementary schools.
During his presentation, Con emphasized that we have nearly 43 elementary schools to cover at sign-up night, while we only have 35 chartered units and 18 Cub Scout Packs. There is no way that the Packs can man all of the elementary schools. Con also underlined that there is a Recruiting Rally at Victory Field in downtown Indianapolis on the evening of July 16, 2015. (Literature about the campaign is available on the Council website, too.)
In Darin's earlier presentation he had emphasized that the call to action does not emphasize Cub Scouts. It is a general call to join Scouting. This means that Troops and Crews could receive new members, too.
Con reported that North Star District's Cub Packs are encouraged to participate in a District-wide Pack Overnight Campout on October 17-18, 2015 (I will need to review my notes to double check dates) at the Indianapolis Motor Speedway. Other weekends and campsites are available if Packs have fewer conflicts, but IMS is being pushed for North Star. IMS is close to home and exciting. Race cars and another race themed aspects will be emphasized through the weekend.
After Con's presentation, there was a general open discussion of some of the logistics. One issue brought up is that customarily Packs collect the initial dues from new families on sign up night. Council then asks for a check from the Pack to Council to cover the new recruits' BSA dues. This lead to some surprise and frustration. In addition, there was confusion about how much BSA dues the Pack should collect the first night to be considered a completely "registered scout." Con did not have the answer at that time. These topics would be addressed in more depth later. For the duration of the meeting, the Committee agreed to take the issue under advisement and focus on the immediate mission of recruiting. At the meeting Con promised to clarify a few of these issues as quickly as possible.
This morning, he emailed me some clarifications. Read the rest of this entry »
One of the first signs of trouble in the health of a Cub Scout Pack is that Cubmaster is heavily involved with the parents.
The Cubmaster, like his Scoutmaster equivalent, has the primary responsibility for taking care of the boys and coordinating the efforts of the Assistant Cubmasters and Den Leaders. He is the head of the Operations Department of a Cub Scout Pack.
So who takes care of the parents? The Pack Committee Chair. He or she is crucial to allowing the Cubmaster to provide a good program to keep the boys interested. If the Cubmaster is handling most of the phone calls and emails from the parents, the Cubmaster is going to waste his volunteer time that should be spent on the boys.
Frank Maynard is a long-time Troop Committee Chair. He hosts a blog at BlogWhiteBlather.com. Frank focuses on running the troop and the issues that scout leaders have in working with the parents.
One of the major issues at any campout is the new scout leader who just came from Cub Scouts. He tells a story about the common experiences that happen.
In his Soul to Work blog, leadership author Scott Mabry explains this very well. He tells us that the more we hold on to our old expectations, the more anxiety results and the more frustration ensues. It's because, as leaders, we have become accustomed to being responsible for our portion of the Scouting experience, and we feel that we have failed if things go wrong. Now certainly we can't just stand back and let a patrol or the troop flail about aimlessly, but neither is it our responsibility to do it for them. Our job goes from providing the program for the Scouts to providing them with the tools to spin their own program. It's helping them discover for themselves which way to go, not pointing them in the direction we think is right. We have to let go of the way we did things before, as well as the idea that our reputation is staked on whether we have a snappy troop.
What Cub Scout leaders need to know is that, as leaders of Cubs, they are responsible for putting boys in tents, in the outdoors, and in other experiences that are hands-on experiences.  Their job is to assist the Cubs with discovering themselves and their world. Cubs need to know themselves and some basics about the world before they can learn the next step. The Cub leader is the teacher, babysitter, and cat-herder.