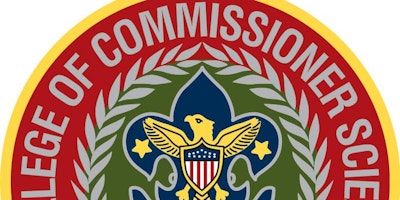 Register
Actual time is 7:15 AM to 4:45 PM but the system likes only starts on the half hour. Open to…
Register
This meeting is where the District Nominating Committee's slate of officers for the 2018 will be nominated and voted on.…
Latest Event Updates
At this point, all units should have opened the Internet Rechartering system and reviewed their rosters and verified that all of your existing leadership is trained and new leaders have scheduled their training. At this time, three packs, two troops, and one crew have not started rechartering online. To those units, please do so this weekend.
This Thursday, November 9, 2017 we will have the next Roundtable at 7:00 pm. We will also offer Den Leader Training at the same time.
Next door in Luke's Lodge, we will be holding the last recharter turn-in. It will open at 6:00 pm and close at 8:30 pm. It will be open house style, so it is first-come, first-serve.
All units are expected to have their Applications to Renew Charter and supporting paperwork turned in by the end of this function. We want to be 100% done. To determine what that means visit the Rechartering Update 2017 page.
Please contact your unit commissioner, district commissioner, or assistant district commissioner for Rechartering Mat Gerdenich if you have any questions or concerns.
As of Tuesday noon, we have 25 units as JTE Gold, 2 JTE Silver, 2 JTE Bronze, and one did not qualify. That leaves 9 unreported.
Similarly for rechartering, we have the original 4 units that were ready to post, meaning that the registrar had approved their Applications to Renew Charter. Since that time, the registrar has been inundated with new packages and the approval count for our district has stalled completely.
That means that we have 9 units that have submitted paperwork and been approved by the District Executive and Commissioner, but have not yet been processed by the regisrar. These are Packs 35, 514, and 830; Troops 18, 56, 72, and 514; and Crews 56 and 408.
We have 16 units that have defects that have been communicated to the units. Most of these are missing minor items like dues payment or a missing signature. Of these most have scheduled times to get these completed so that we can close rechartering by the end of the month. If your unit has not scheduled a date of completion, please let us know.
We have 3 units have completed their online rosters but submitted no paperwork. Another 3 units have started the online rechartering but not submitted the final roster. Yet another 3 units that have not started the process.
Thank you to all of those unit leaders that have worked so hard to get us to this point. It is a thankless job.
This is the last week for Patrick as our Council Scout Executive before he becomes the Assistant Chief Scout Executive for Operations.
Check out the Facebook feed on this page for more about Patrick in the news.
We wish Patrick many years of joyful scouting in Dallas.
Applications to renew Charters and supporting paperwork were due last Thursday, November 9, 2017.
If your chair or Rechartering specialist have not received notice that you are done, you probably are not done.
Please remember that volunteers like you do most of the work on Rechartering. If they have to chase you down, it is less time that those volunteers are spending with family, scouts, fun, or work.
Please make sure the commissioner you are working with knows your plans. Ask them if we have notes entered in our tracking system about your plans.
We really need all paperwork in this Friday. We have a lot of work to do once you turn in paperwork.
Thank you for your cooperation in wrapping up this tedious and necessary process.
Tomorrow's roundtable (Thursday, November 8, 2017) will be at 7:00 pm at Luke's Lodge on the northeast corner of campus of St Luke's United Methodist Church, 100 W 86th St, Indianapolis, IN 46260. We will have Den Leader Training and a presentation on Life-to-Eagle process.
For Life-to-Eagle, this is open to all scout leaders, Eagle Candidates, and family members. Come hear from the district members that are a necessary part of your scout's success in making Eagle.
As we are wrapping up our 2017 Journey to Excellence scorecards with rechartering. Now is a good time to become familiar with next year's scorecards.
Units
For the most part, at the unit level, there are few changes. On line 10, the consistent change is from requiring the minimum adult leadership for rechartering plus an assistant unit leader (i.e., assistant Cubmaster, Assistant Scoutmaster, or Associate Venturing Advisor). Now the requirement for Bronze on line 10 is simply to have an assistant unit leader. This makes sense, since the others are required to recharter. Even units that do not qualify for bronze need a unit leader and committee members. This is less of a change than a simplification of the scoring method.
I have omitted other wording changes that do not change the underlying scoring mechanism for the criterion.
District
The significant changes are at the District level. While most unit leaders have little interest in what district qualifies for, it does impact units. The impact is on what commissioners and committee members do to support the units. In their efforts, they need the cooperation of unit leaders to be able to meet BSA JTE requirements.
On line 4, membership growth, the focus is shifting from the district-at-large to Cub Scouts. So lower overall growth is sought but actual growth in Cub Scouts is the minimum level. The logic is that if we grow Cub Scout membership, we will grow overall membership. With co-ed taking effect in 2018 for Cub Scouts, ideally this is an easy requirement to meet.
On line 7, the target percentage of scouts with advancement is reduced between 2-3% on all levels.
On line 9, the target percentage of Cub Scouts camping is increased 2-3 % on all levels.
On line 12, unit retention is increased for bronze but reduced for silver and gold. All now seek 90% retention.
On line 13, unit commissioners are expected to have more detailed and more frequent information about the health of the units in their charge. That means the unit commissioners are expected to ask better questions so that they better understand the units. They are then accountable for summarizing that information in the reporting
 system.
Line 15 requires one less committee member to qualify for gold.
Conclusion
So for planning purposes, very little is shocking to units. The amount of requests for assistance from district may go up. It seems the goal is to have better overall scouting experiences available to boys and girls without putting more pressure on any one unit to fulfill that goal.
Please look at the scorecards for 2018 and build improving into your monthly unit committee meetingsto insure a great 2018.
With the last recharter turn-in only 36 hours away, as of this writing, it is time to look at how the district's rechartering is proceeding.
NOTE: This year we have the added wrench in the gears that our district executives were switched mid-stream. That is requiring a bit of extra effort to make sure everyone is on the same page. In addition, I have a suspicion that there is a technical glitch in our backoffice reporting system. I have made inquiries to the administrator.
Please understand that any confusion or misinformation arising from these changes is not intentional. As I communicate with units, please understand that I am working on the best information available. I expect that we will have any problems ironed out by Friday. I will post updates on this page as they become available.
As of this writing, only five of our 39 units have not logged into the rechartering system. For those five units, that leaves you only 36 hours to do all of the online work before your paperwork's final deadline arrives at tomorrow night's final recharter turn-in.
Of the remaining 34 units, the commissioner, executive and registrar have approved two units to post, meaning they are done and approved at all levels: Troops 343 and 512.
The charter agreement, application to recharter, and JTE scorecard have been received from the units listed below. Whether there remain any problems is yet to be finalized. These units will be informed or received a punchlist at turn-in identifying if problems are identified. Packs 18, 64, 105, 514, and Troops 358, 514, 804.
The following units have finalized their rosters online but still have paperwork to turn in, according  to my records (please review the note above on updating information). Packs 72, 84, 171, 175, 179, 358, 358-2, 358-3, 358-4, 358-5, Troops 18, 69, and 269.
The following units have worked with the commissioner service and generated a mutually agreed punch list of outstanding tasks. We are awaiting those items being completed, hopefully tomorrow night. Packs 35, 174, 747, 830, Troops 56, 73, Crews 56, 358, and 408.
Finally Troop 180 has been in contact with me about the current status and plans to complete.
Thank you to all of the volunteers that put so much effort into this tedious but necessary process this year. While you may not get the recognition you deserve, you are providing a valuable service.
Please let me, Jessica, or Mat Gerdenich know what we can do to help you finish rechartering by tomorrow night's turn-in.
This is the fourth part of a series commenting on what I have been reading in the works of Nassim Taleb, beginning with his book Anti-Fragile, part of the Incerto series.
In the first article, I outlined his biography and introduced the questions of "What is the opposite of fragile? Are your scouts, scout parents, or scouters fragile? What are your duties as a scout leader in handling this matter?"
In the second article, I defined anti-fragile as strengthing in face of adversity. I suggested that resilience is not the antonym of "fragile."
In the third article, I discussed using the concept of anti-fragile in planning and programming for troop outings.
This week we will start to look at teaching scouts how to be anti-fragile emotionally in the field.
Taleb talks about one the great Roman philosophers in Chapter 10. Seneca was a stoic which meant he sought to remove emotionality and dependence on worldly goods from his life. At the same time, Seneca was among the wealthiest men in Rome. It seems a contradiction. Taleb interprets Seneca's worldview as focusing on removing the vagaries of life from his worries. Seneca did not seek to throw wild parties with his wealth. He sought to make himself safe from worries. Even so, Seneca acknowledged that many wealthy people sleep poorly at night for fear of losing their fortunes the next day. Seneca sought a way to obtain a different result.
The stoics' way, as taught by Seneca, was to be able to face tragic problems and say, "I lost nothing." Imagine your scout brings his iPhone and loses it on the next campout. Does he stress about it the rest of the weekend? How do his parents react on learning the news? Do they raise the roof with complaints? Do they calm accept the loss of valuable property? Neither is probably the best approach. What will the scout do in anticipation of that coming parental reaction?
Taleb suggests the first step is to move away from post-traumatic harm to post-traumatic growth. Clearly an over-reactive parent will induce post-traumatic harm. So does a complete dismissal of the loss of the iPhone lead to post-traumatic growth? I suggest not.
To have post-traumatic growth, using the Seneca method, the scout has to prevent harm an over-emotional response. Avoiding an emotional meltdown and focusing on concrete steps to handle the situation is key. A scoutmaster or patrol leader asking, where did you last see it? where did you go next? what were you thinking about? These questions are not emotional; they are functional and likely to increase the likelihood of finding the phone. Finding the phone reduces the emotional punch of an angry parent. Failing to find the phone but implementing a systematic response allows action to step in the place of emotionality.
Yet in all of this example, the scout is only barely coping with the problem. He still feels the loss of property. He fears the parental response. He has feelings anticipating the response. By giving a systematic response after the phone loss occurs we have not made him anti-fragile. The next conflict with his parents is just as likely to lead to an emotional break down if we are not there to offer systematic guidance.
Returning to the unemotional parental and scout response to the loss of a phone, we have the different problem that the scout is probably learning to be irresponsible with his and other persons' property. He is learning to be untrustworthy. He faces no consequence for mishandling his own property. He is likely to be the one to misplace the cook kit from the patrol box.
Seneca suggests, in Taleb's telling, that the scout in our story go through a series of mental exercises of pretending he has lost the iPhone long before he ever losses it. He think about what the consequences of the loss would be. He think about how he would adapt without the phone. He think about how he would carry out those same tasks without the phone. He think about how he would relate to (fail to relate to) his fellow scouts without his phone. In this exercise, the value of the phone is reduced. He starts to see that life goes on without the iPhone being omnipresent. He learns other ways to deal with life without the iPhone.
Interestingly, these exercises tend to make the risk of loss of the iPhone much less likely. First, some scouts may choose not to bring the iPhone on the outing because they don't want to take the risk of loss. Similarly, some scouts may not bring it because they like the alternative scenarios better: more card playing time with fellow scouts or more time in the woods. Second, some scouts may still insist on bringing the iPhone but plan for its care much better, because they have learned to anticipate how losses could occur. Third, others may learn the opposite of our intended less that the theoretical absence makes the heart grow fonder. In all of these scenarios, the scout has learned to be more anti-fragile because he has learned that the iPhone being lost has consequences that he does not care for.
Seneca's lessons from these anticipation-of-loss scenarios during travel was that he generally traveled with only what he would end up with if he was shipwrecked. In scouting language, he took in his backpack only what he needed. Heavier backpacks add new worries for loss, damage, fatigue, distraction, risk of falling, etc. Packing light in anticipation of real risks is a form of anti-fragility. Packing what your willing to part with is another form of stoic anti-fragility.
For a scout trek, a great exercise in anti-fragility is to imagine all the things that could go wrong that day and how you would cope with those problems. The unknown-unknowns (see Don Rumsfeld) are always a risk, but learning how many unknowns or risks are actually foreseeable is a great form of creating an anti-fragile scout.
The first time you discuss foreseeable risks with an 11 year old, you might induce fright and panic. But if you follow this process every morning on every campout, if they then repeat this exercise 3 years later in the Boundary Waters, they will have confidence built from learning how to manage foreseeable risks.
Taleb sums up the point by saying
Seen this way, Stoicism is about the domestication, not necessarily the elimination, of emotions. It is not about turning humans into vegetables. My idea of the modern Stoic sage is someone who transforms fear into prudence, pain into information, mistakes into initiation, and desire into undertaking.

Seneca proposes a complete training program to handle life and use emotions properly— thanks to small but effective tricks. One trick, for instance, that a Roman Stoic would use to separate anger from rightful action and avoid committing harm he would regret later would be to wait at least a day before beating up a servant who committed a violation. We moderns might not see this as particularly righteous, but just compare it to the otherwise thoughtful Emperor Hadrian's act of stabbing a slave in the eye during an episode of uncontrolled anger. When Hadrian's anger abated, and he felt the grip of remorse, the damage was irreversible.

Seneca also provides us a catalogue of social deeds: invest in good actions. Things can be taken away from us— not good deeds and acts of virtue.*
I love that underlined passages. They just scream Scouting.
Returning to our unemotional scout who has lost the iPhone. In many ways, he will be your biggest problem. He has learned to remove himself emotionally from problems.
Taleb in a latter book in the Incerto series discusses how psychology is coming to understand that emotions are a necessary part of decision making. An unemotional scout will be one that just doesn't care what the outcome is, so he will not spend much time thinking through the problem. Emotions are the "lubricants of reason."
Descartes' Error presents a very simple thesis: You perform a surgical ablation on a piece of someone's brain (say, to remove a tumor and tissue around it) with the sole resulting effect of an inability to register emotions, nothing else (the IQ and every other faculty remain the same). What you have done is a controlled experiment to separate someone's intelligence from his emotions. Now you have a purely rational human being unencumbered with feelings and emotions. Let's watch: Damasio reported that the purely unemotional man was incapable of making the simplest decision. He could not get out of bed in the morning, and frittered away his days fruitlessly weighing decisions. Shock! This flies in the face of everything one would have expected: One cannot make a decision without emotion. Now, mathematics gives the same answer: If one were to perform an optimizing operation across a large collection of variables, even with a brain as large as ours, it would take a very long time to decide on the simplest of tasks. So we need a shortcut; emotions are there to prevent us from temporizing. Does it remind you of Herbert Simon's idea? It seems that the emotions are the ones doing the job. Psychologists call them "lubricants of reason."**
So the strange thing is that we find ourselves having to calm the emotional scout to move toward reason and logical behavior; we need to spark an emotional response to move him toward reason and logical behavior, too.
In both cases, we are teaching the scout to confront the situation and plan for foreseeable but yet unknown risks.
Next Saturday will continue to look at applications of Incerto and Anti-Fragile in particular to the scouting world.
_______________
* Taleb, Nassim Nicholas. Incerto 4-Book Bundle: Antifragile (Kindle Locations 2855-2863). Random House Publishing Group. Kindle Edition.
** Ibid. Fooled by Randomness. Kindle Locations 21806-21815.
Traditionally in BSA units, National recommends that units do an annual planning conference one time per year. This is designed to discuss the budget, annual calendar, and longer-term projects, like high adventure outings. The idea is that at least once per year that the unit makes sure that it is staying on course. This is usually done concurrently with the annual program calendar.
The result is that the unit has a full agenda to talk about the calendar. Dealing with other long range issues gets varying discussion and analysis. For units that do the planning as part of an evening meeting, they run out of time quickly. For units that have a full retreat, they have plenty of time, but may have different items on their agenda.
Compounding the problem, most officers of the unit only plan to be with the unit until their son (and soon to be, daughters) leave the unit. This makes planning a much shorter term vision than the unit probably needs. But in terms of prioritzation, it allows the players to focus on what affects them and shorten the agenda.
Scouting already has a tendency to "meeting" our volunteers to death. We tend to have too many short meetings rather than taking the time to do a retreat once.
We will have the members of the North Star District Advancement Committee,
specializing in Eagle issues lead a discussion. The roundtable will be at 7:00 pm on Thursday, November 9, 2017 at Luke's Lodge, the outbuilding on the campus of St Luke's United Methodist Church, 100 W 86th St, Indianapolis, IN 46260.
Specifically, Eagle Project Coordinators Rick Aker and Bill Cherry will talk about how boy scouts go about getting their Eagle Projects approved in the District.
Eagle Board of Review Coordinator Jerry Simon will talk about how boards are scheduled, run, and successfully completed.
This topic is ideal for Eagle Candidates, their parents, Troop Key 3 members, Troop Advancement Chairs, Troop Eagle Mentors (scout and scouter), new and old Scoutmasters, Assistant Scoutmasters, and anyone interested in serving on Eagle Boards of Review. Oh, forget it; just anyone.
Come with your questions!